Public transport in Basel
Trams and Buses: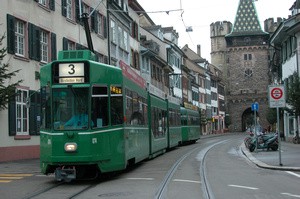 Public Transport in Basel is easy.
Cable cars, called "Tram", and buses make Basel and its agglomeration easy and quickly accessible.
Upon check-in at a Basel hotel or B&B, you receive a mobility ticket, which gives you unlimited use of all public transport in and around the city for the duration of your stay. Even before check-in, your
registration confirmation is a valid ticket on the day of your arrival.
To find the closest tram or bus top to your accomodation, check this online map.
A map of the tram and bus lines can be downloaded from the BVB website, the local tram operator, where you can also find schedules, and plan your itinery.
In case you do not have a mobility ticket, please remember to buy your ticket before you enter the bus or train.


Taxi:
Taxis are available outside the Conference Center main entrance.
If you wish to call for a taxi: +41 61 222 22 22 or +41 61 444 44 44.
A price estimate is availabele here.