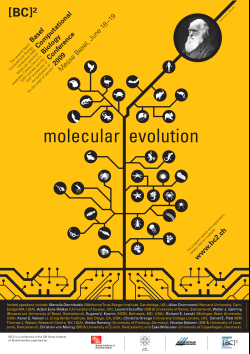 Add to my agenda:



[ vcs ] [ ics ]
7th [BC]2 Basel Computational Biology Conference
"Molecular Evolution"
Congress Center Basel
June 18 & 19, 2009
The seventh Basel Computational Biology Conference 2009 "Molecular Evolution" celebrates Charles Darwin's 200th birthday and the 150th anniversary of the publication of "On the Origin of Species".
Invited speakers include:
Manolis Dermitzakis, Wellcome Trust Sanger Institute, Cambridge, UK.
Allan Drummond, Harvard University, Cambridge MA, USA.
Adam Eyre-Walker, University of Sussex, UK.
Laurent Excoffier, SIB & University of Bern, Switzerland.
Francois Felber, University of Neuchatel, Switzerland.
Walter J. Gehring, Biozentrum University of Basel, Switzerland.
Eugene V. Koonin, NCBI, Bethesda, MD, USA.
Richard E. Lenski, Michigan State University, USA.
Karen E. Nelson, J. Craig Venter Institute, San Diego, CA, USA.
Christine Orengo, University College London, UK.
Daniel E. Platt, IBM Thomas J. Watson Research Centre, NY, USA.
Stefan Rensing, University of Freiburg, Germany.
Nicolas Salamin, SIB & University of Lausanne, Switzerland.
Derek Smith, University of Cambridge, UK.
Christian von Mering, SIB & University of Zurich, Switzerland.
Eske Willerslev, University of Copenhagen, Denmark.
The annual Basel Computational Biology Conference brings together like minded individuals and companies interested in the field of computational biology. The main goal of the conference is to provide a platform for informal communication and fruitful discussion between speakers and participants.
Picture gallery of the 2009 conference:
17-Jun-2009: [Speaker's Dinner]
18-Jun-2009: [Sessions] [Breaks] [Basel@Night]
19-Jun-2009: [Sessions]
To review previous [BC]2 conferences, see: [2003] [2004] [2005] [2006] [2007] [2008].